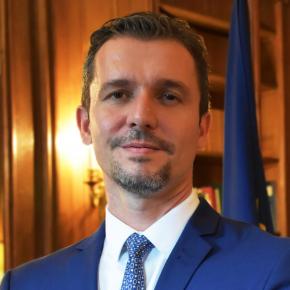 Consul General of France in New York
Jérémie ROBERT, 43, took office as Consul General in New York on September 3, 2020.
 Since September 2018, he was advisor for Africa, Development and Global Affairs in the office of the Minister of Europe and Foreign Affairs, Jean-Yves le Drian. In this capacity, he contributed to the renewal of France's relations with Africa and the rebuilding of its development policy, and worked on the management of the crisis in the Sahel.
He has worked for France's global priorities, in particular the preservation of global public goods such as global health, climate and biodiversity. During his career at the Quai d'Orsay, which he began in 2003, he served in the Africa and Indian Ocean Department, on Sudan (2003-2006) during the Darfur crisis ; in Nairobi, as France's Deputy Permanent Representative to the United Nations Environment Programme and Adviser on Somalia (2006-2009) ; in New Delhi (2011-2014) as Coordinator of the Political Chancellery ; in Yaoundé (2014-2016) as Number Two of our Embassy in Cameroon and as Assistant Director for West Africa (2016-2018). He worked for the European Union in Kenya (2010-2011).
Jérémie ROBERT is a graduate of the Institut Politiques de Strasbourg and holds a master's degree in international relations. 
He is married and father of two children.