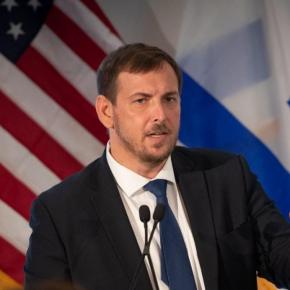 Consul General of Israel in New York, USA
In October 2021, Ambassador Asaf Zamir began his tenure as Consul General of Israel in New York, representing the State of Israel to New York, New Jersey, Pennsylvania, Ohio, and Delaware. 
Born in 1980, Ambassador Zamir spent his formative years living with his family in Florida, before returning to Israel to finish his schooling. After graduating from high school, he completed his national service in the Israel Defense Forces, as part of the central control unit in the Israeli Air Force. Upon completion of his national service, Ambassador Zamir began his higher education at Tel Aviv University, where he received a law degree.
In 2008, Ambassador Zamir was elected Deputy Mayor of the Tel Aviv City Council as part of the Rov Halr (majority of the city) party he co-founded. Subsequently he was re-elected to the Tel Aviv City Council in 2013, where he retained his position as Deputy Mayor and assumed all responsibility for the city's education system.
Throughout his municipal career, Ambassador Zamir promoted and implemented many programs, including those relating to affordable housing, public transportation, education equality, civil rights for minorities and the refugee community, as well as being an advocate for the LGBTQ community in Tel Aviv/Yafo.
During much of his time on the Tel Aviv City Council, Ambassador Zamir also chaired the board of the Yehoshua Rabinovich Foundation for the Arts, where he was active in supporting literature, music, dance, experimental theater and cinema. In 2011, the Ambassador also established the Mitpakdim Movement, aimed at motivating youth to enroll as party members to all political parties in Israel and he promoted public awareness about the importance of political activity among Israeli citizens.
In the April 2019 elections, Ambassador Zamir entered national Israeli politics as part of the Blue and White party led Benny Gantz and Yair Lapid. In May 2020, with the formation of the national unity government, he was appointed Minister of Tourism. But later that year he resigned, called for the new elections, and played a key role in the effort that eventually led to the formation of the most diverse government in Israeli history. This new government led by Prime Minister Naftali Bennett and Foreign Minister Yair Lapid, appointed Ambassador Zamir as Israel's Consul General in New York
Ambassador Zamir is married to Maya Wertheimer, who is an actress. Together, they have one daughter, Asia.