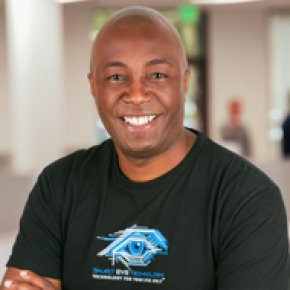 CEO/Chief Disruptor, Smart Eye Technology, USA
Dexter Caffey grew up in Youngstown, Ohio, graduating with his bachelor's degree in Finance from Youngstown State University. With this knowledge, Mr. Caffey founded An Alternative Investment firm in 1998, at the age of 25. The Caffey Investment Group is responsible for bringing major publicly traded companies to its firm and building key strategic relationships with decision makers in corporate America for over 20 years. Mr. Caffey is also responsible for aiding institutional clients in access to financial platforms to hedge their portfolio risk and reduce costs.
While on an international business trip in 2017, Mr. Caffey was speaking with a cybersecurity professional when he noticed he was able to view the documents right on the screen. He then thought to himself "What if I could create a software for documents that can shut off for any unauthorized users or "faces" viewing that file or that screen?" From then, Mr. Caffey began creating the Smart Eye Technology platform, which includes a mobile app, a desktop application, and a Control Panel for Enterprise customers. Dexter Caffey currently lives in Atlanta, Georgia with his wife, Rashida and his two dogs.